I studied Mechanical Engineering, Applied Mathematics and Spanish at North Carolina State University, graduating summa cum laude. I graduated from Stanford University with my Masters and Doctorate in Mechanical Engineering. While working at Lucent, I completed my MBA in Finance from University of Massachusetts Lowell. My roles and responsibilities have varied in the past twenty years to include Sustainability, Operations, Supply Chain, New Product Introduction, Product Management, Finance and Marketing. Additionally, I have thrived in multiple industries: electricity generation, personal care products, consumer electronics, telecommunications, telecommunications services, healthcare and lighting.
As a female engineer, I constantly ask "Why?" and see challenges as opportunities for creative, unexpected solutions. When my daughter's doctors were stumped, I integrated the blood work data from three hospitals, researched via Google and then emailed the Chief Nephrologist saying "Alexis has Pseudohypoaldosteronism Type II, who can help confirm my diagnosis and treat her?" After we had said farewell to Kaitlyn, Alexis' still-born identical twin, and the doctors' first words about Alexis were about her impending death. After Alexis was at home, a nurse reviewed her records, she responded, "You realize that Alexis almost died during her fundoplication and g-tube placement surgery?" I had no idea. And since April 2006, I have resolved to know and be aware of all aspects of Alexis' treatment and care. We have gained twenty different specialists to cover her intertwined complexities. In 2010, I learned what I had become an ePatient for Alexis – I had become empowered, engaged, equipped and enabled caregiver. I am passionate to making sure that Alexis' care is not an exception; that it is the norm and that parents know they should insist on it.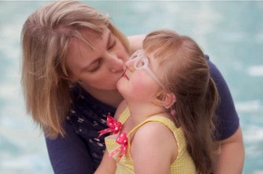 No parent should feel:
inferior to a health professional because of educational statusslide12
isolated because of a rare disease diagnosis
alarmed because of the complications of their child's medical issues
helpless because the complexities and healthcare system bureaucracy
hopeless because of future path outlined by clinicians
Alexis is my futurist, caring for her is seeing into the future. A future that:
Consolidates silos to care for patients in their single body.
Cares for patients where they are – home, community, hospitals.
Communicates compassionately.
Creates a future for Alexis' health and well-being.
I am thrilled to share my perspectives to help others organize and embrace the positive on their journey. I have spoken at numerous parent support conferences and was honored to be a speaker at Stanford University's Medicine X Conference. Through articles for websites and my blog, I have reached nearly 20,000 views, likes and comments. In 2013, I placed second in the ONC Health IT Blue Button Idea Challenge, participated as an expert tester and was selected for the small judging committee.
I am currently launching LightAide, a device I invented based on Philips' LED technology. LightAide is being marketed through a for-profit / non-profit partnership between Philips and Perkins School for the Blind. LightAide is enhancing the lives of children like Alexis by enabling them to interact with the world in an innovative manner.
I have a particular expertise in working with systems and synthesizing large amounts of data, insights or analysis into concrete strategies. My dissertation research focused on corporate strategies to set up partnerships with municipalities and other NGOs to establish recycling and remanufacturing operations for electronics in Japan, the United States and Europe. Through my personal experiences in Healthcare, I am acutely aware of the challenges of information, services and money flows that prevent people from getting adequate help. I have worked collaboratively with many professionals and have positive working relationships with patients, parent-caregivers, caregivers should additional consultation be required.