Yesterday and today, I'm atBCH-RisingStartending Boston Children's Hospital Innovation Summit. So far, it's been a fantastic mix of presenters with inspiring stories both from inside of healthcare and outside of healthcare. As a 'NC girl', I enjoyed especially the 'what can surgeons learn from NASCAR' talk by Dr Waters. It's been all around fun, a lot of energy, passion and will to do awesome work for kids and families.
Why am I writing about this? I am receiving an incredible award. I'm humbled, I'm still stunned. You know of my journey – how I merged Alexis' experiences into my work (see more: http://bit.ly/1e1qKoe and http://bit.ly/1toBeYL). I will be receiving the 'Rising Star' Award.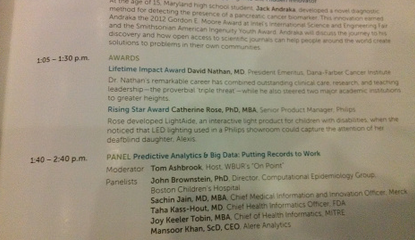 A Brief description about Rising Star Award:
Nominees shall have accomplished an outstanding achievement in healthcare of unusual merit and independence of thought and originality that significantly impacts pediatric care, defined as care provided to patients under the age of 21.
I enjoy challenging myself to adhere to my planned remarks by posting them online. It's a commitment to you that I won't deviate wildly off script. 🙂
At this time 9 year ago, I was pregnant with twins and I'd never been a children's hospital.
Since then,
Kaitlyn, Alexis' twin sister, died at 29weeks pregnant.
Alexis spent 2 ½ months in the NICU after being born at 37 weeks.
Alexis had 8 surgeries and we patented a device for Alexis to avoid having a trach, using CPAP at each night since she was 1.
Alexis' little sister was born and had open heart surgery
Launch LightAide, a product inspired by the way Alexis sees the world.
At first, it was just a passion to make sure everything with Alexis' medical care went well and sharing with families how we did that. Then, when she needed CPAP – figuring out a way that we could safely and smoothly adhere her CPAP without issues. Then, when she and her peers were having difficulty interacting with normal lights – identifying technology inside of Philips that could be helpful to them.
Having my kids has ignited a passion – combining my engineering, business and 'mom-invention' skills.
I can't stop until every child that needs technology has it, available for them – if it's LightAide, a CPAP, or room lighting to help heal and calm patients and their families – to give them a sense of normal. When Alexis visited Philips Lighting showroom in August 2010, her face lit up. Even people who were meeting Alexis for the first time – could see the transformation. She was seeing the walls for the first time, lit up in LED technology.
Wouldn't you love to see a child's face light up when he can make out the brightly colored lights?
Wouldn't you be thrilled to see a child figure out cause and effect for the first time?
Wouldn't you be amazed to see a child play with their sibling?
You can make a difference, by supporting technological advancements, putting LightAide into your hospital and changing the lives of children.
I hope you can understand how desperately parents and caregivers want to help improve healthcare. Please – let us. We're not physicians or medical researchers, but we know our hearts, we know how important your work is, and we know how important it is to find every single way to improve care in the hospital and at home.
You can make a difference, by supporting parents and caregivers on their journey to improve healthcare. I don't know where the next 'Catherine Rose' is – but she's not far away. She's juggling her roles and seeing the world through a different lens.
I recently turned 40, giving me a chance to pause and consider my journey. The health of my children means the world to me and they both inspire me everyday. My journey is just one of many caregivers around the world, working hard to do more.
I want to thank you for this award – it appreciates where my journey has taken me over the past 9 years – I'm eager to push for what I can accomplish over the next 40 years.